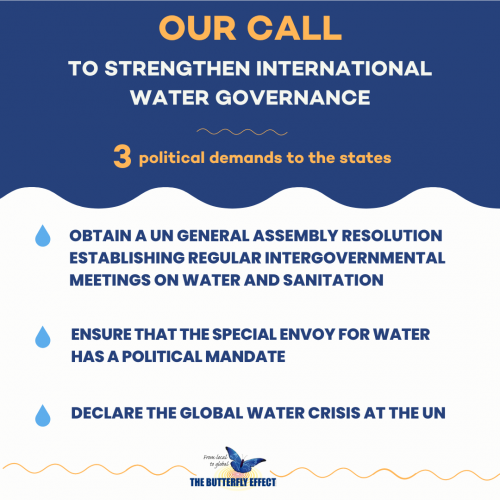 From March 22 to 24 2023, a UN intergovernemental conference dedicated to addressing global water issues will be held in New York City for the first time in 46 years. This is a once-in-a-llifetime opportunity to rally the States and the international community around our most precious and finite resource "water" and give us the chance to solve the water crisis. 
WATER, THE MAJOR ISSUE OF THE 21ST CENTURY
Water is essential for all aspects of development, being a major driver for an equal and peaceful world, and being the key to ensure our survival. And yet: 
2,2 billons of people worldwide do not have access to water
Lack of access to sanitation affects 3,6 billion people globally
Over 80% of wastewater is released in our oceans and rivers without treatment or reuse
Widespread droughts could become the next pandemic as climate change intensifies while by buisness as usual 50% of the world's population will be living under water stress conditions by 2050.
STATES AND THE INTERNATIONAL COMMUNITY MUST FACE THE WATER CRISIS
To address pressing water challenges and make the human rights to water and sanitation a reality as well as to ensure the implementation of SDG 6 and all water-related goals of the UN 2030 Agenda for Sustainable Development, an intergovernmental UN Conference dedicated to water every 46 years is not sufficient. At this rate we won't reach the objectives that the States and the international community have set. 
Moreover, the world faces interconnected risks that threaten to cause a polycrisis. Climate-related risks - which are directly linked to water - are one of the greatest future threats facing the world. Food crises are multiplying, alternative energy sources in most cases are not possible without water, the security of the planet is threatened, inflation is galloping, while the pressure on resources is growing and water is becoming the object of greed and tension.
In fact, water is a major geopolitical issue including a peace issue. The management of this virtual unique and necessarly shared resource is a subject that connaot be ignored by the international community. 
The most vulnerable are already paying a high price for the inability of States to translate into policies and actions the commitments made in the frameworkf of the human rights to water and sanitation (A/RES/64/92), the 2030 Agenda for Sustainabkle Development, the Paris Climate Agreement, biodiversity and regional conferences, as well as the UNFCC COP. Moreover, funding is not reaching the people on the ground whose lives have begun to change drastically. States and the international community are not up to the threats to the planet and humanity. 
The Butterfly Effect is coordinated by the International Secretariat for Water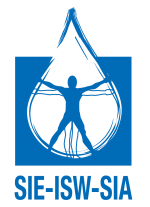 The Butterfly Effect steering committee members

With the support of*

* The views expressed in this document do not represent the offical views of the organizations providing financial support